---
ARTIST DIRECTORY
---

---
JAMSOURCE / RUNWAY Fashion Source Magazine founder and publisher Carolyn D. Baker launched it's newest publication. If you didn't get the June issue of JSRW Magazine print, you can download it by below. Cynthia Allen gets up close with Peggy Scott-Adams with an exclusive interview.
---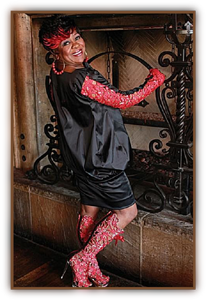 C.A. - Let me start this interview by saying it's truly an honor and privilege to be speaking with a legendary Grammy nominated female artist that I've always admired and respected. You are best known for the hit song "Bill" and have had such a remarkable career thank you for allowing Jamource Magazine this wonderful opportunity. Tell your fans a little bit about yourself and how you got started singing.
Peggy Scott-Adams - The pleasure is all mine I'm thankful for this opportunity, I was born in Opp, Alabama my mom was a gospel promoter, we moved to Pensacola, FL when I was four years old and in the eighties, I moved to the West Coast and now I currently reside back in Pensacola, FL. Singing was something that just came natural to me I wasn't seeking to be in the music business, I wanted to be a school teacher. A friend of mine name Ben E. King was the one that introduced me to the music industry and allowed me to travel with him on the road. In 1968 I collaborated with Jo Jo Benson we recorded four consecutive million sellers titled "Lover's Holiday," "Pickin," Wild Mountain Berries," and "Soulshake".
C.A. - You are best known for the controversial hit song titled "Bill" what was the inspiration and was it a real-life experience for you?
Peggy Scott-Adams - No it was not based on a personal experience of mine, actually it was written by a my good friend Jimmy Lewis, it was inspired by an episode he saw on the Oprah Winfrey Show.
C.A. - I notice a lot of your songs deal with relationships and abuse why is that and what message would you like women to get from listening to your music?
Peggy Scott-Adams - Jimmy Lewis wrote every song from 1997 until 2004 the inspiration was based on real issues that women are subjected to in relationships. I don't write any of my songs but I would like for women to be empowered, motivated and know their worth and be role models for their daughters.
C.A. - How did you become known as the lady with the "Big Voice" also the name Peggy Scott was given to you by whom and why?
Peggy Scott-Adams - DJ Papa Rock gave me the title lady with the "Big Voice" because I was short and petite and Ben E. King suggested I change my name because I had an unusual last name.
C.A. - Who are some of the artists that you've toured with and who were some of your favorites? Also, where are some of the places and venues that you've toured?
Peggy Scott-Adams - The list is endless but to name a few that I've toured with are legends such as Bobby Blue Bland, Jo Jo Benson, Stevie Wonder, Marvin Gaye and the Temptations. Some of my favorites includes Tina Turner, Wilson Pickett and Johnnie Taylor also I did a duet titled "Back to Love" with Ray Charles in 1990 that was a very memorable experience for me. I've toured all over the United States and in Europe, playing in such venues as the Apollo Theater, Madison Square Garden, The Spectrum and the list goes on.
C.A. - I know a lot of artists have been known to do drugs and alcohol have you ever done such and if so how did you overcome it and if not how did you avoid not getting caught up?
Peggy Scott-Adams - That's a good question and it's by the grace of God and that I come from a deeply religious background and up bringing that I never got into drugs, alcohol, fame and the ego of the business.
C.A. - As a blues singer why do you think blues artists get less air time and are treated differently from the R&B artists?
Peggy Scott-Adams - I don't consider myself as a blues singer, I consider myself as an old-school R&B singer. I think a lot of artists are being labeled as blues that are soul and old-school R&B because the industry does not feel that there is a demand. I feel that's not true because if our music was given equal amount of air time as the R&B artists a lot more people would get to know who the artists are and there would be a greater demand.
C.A. - What are your thoughts on how the music industry has changed, do you think it's for the better or worse for artists?
Peggy Scott-Adams - I think for the worse because of the lack of good singing and for the better because more artists are choosing to be independent which allows them to be in more control of their music.
C.A. - It's been a while since your fans has heard from you what caused you to take a hiatus from the music industry and what has caused you to make a comeback?
Peggy Scott-Adams - In the early eighties I married a successful politician and businessman named Robert L. Adams Sr. who owned and operated a mortuary so I focused on my marriage and worked as a mortician learning the business. I received a phone call from my friend Jimmy Lewis in 1997 it was he who ignited the phenomenal comeback with the Grammy nominated album "Help Yourself", which contained the smash hit "Bill". It was the most controversial talked about and most requested song of 1997, prompting interviews with major print media and television shows such as: The Oprah Winfrey Show; CNN; Showbiz Today and Fox Television stations. The album remained on Billboard's Blues chart for 67 weeks and peaked #1 for 28 weeks on the Blues charts, #9 on the R&B charts and #72 on the Pop charts.
C.A. - What is something that your fans might find interesting about your funeral home and is it still in existence today?
Peggy Scott-Adams - Yes, even though I now live in Pensacola, FL, I still own the business it is the Robert L. Mortuary located in Compton, CA it's one of the few funeral homes that offers bullet-proof glass partitions and drive-thru open-casket displays. The reasoning for this is during the 1980's the threats of graveside gang shoot-outs in Compton.
C.A. - I understand you did a documentary can you tell your fans about that?
Peggy Scott-Adams - Yes, I was included in the 2003 documentary "Martin Scorsese Presents the Blues" and the 5-Set CD collection of 120 greatest blues renditions of all times, that was produced by movie producers Martin Scorsese and Clint Eastwood.
C.A. - You've suffered a lot of personal tragedies can you tell your fans a little about that and how did you found the strength to continue to move forward also was it the inspiration for you doing a gospel album?
Peggy Scott-Adams - The personal loss of my late husband, brother and friend and producer Jimmy Lewis was the inspiration for the gospel album titled "God Can and He Will". They will always be in my heart and I will always cherish the memories. Also, being a devout believer I continue to stay strong in my faith and I take each day in stride.
C.A. - It been such an honor speaking with you thanks again for allowing Jamsource Magazine and your fans this opportunity to get to know you a little better, in closing do you have anything else you would like to share?
Peggy Scott-Adams - This has been my pleasure as well the only other thing I would like to say is "without a shadow of doubt I don't know what tomorrow holds but I do know who holds tomorrow"!!!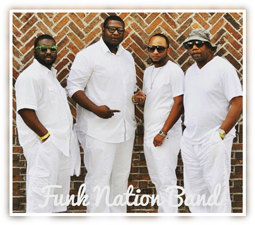 Funk Nation Band * Back Up Band for Peggy Scott-Adams
Funk Nation is all-around group straight out of Montgomery, Alabama which consist of artists and musicians that was established in 2007 by Chinese Williams, lead guitar. Group members Samuel Rowling, bass, Antonio Golshon, keyboard, Daniel Brown, keyboard, Marcus Donerlson, Drummer have performed on a variety of festivals, concerts and private occasions with local and legendary artists such as; Peggy Scott Adams, Carl Sims, Donnie Ray, Columbus Toy,and De'Aundray Robinson.

JAMSOURCE / RUNWAY Fashion Source Magazine: Download
---